National Celebrations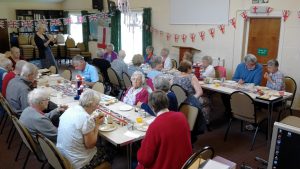 Look ahead on the national calendar, is there a particular celebration you can join in. For example a royal jubilee, royal wedding or birthday and war remembrances.
Organise a Street Party. We have ours in the car park or indoors if it's poor weather. To hold it on a road you will need to apply to the council to close a road.
Bunting, flags, themed tablecloths, balloons, themed serviettes/disposable plates.
Fancy dress, special hats, dress in red/white/blue.
Background or sing along to patriotic songs. Invite a soloist.
If outside have blankets available for those feeling a chill.
Food, keep it simple, sandwiches, crisps, sausage rolls, jelly or trifle, cup cakes, drinks.
Remembrance Day Programme
Poppies, Union Jack flag. Our children's group made a large poppy from small pieces of tissue paper, mounted on wood, we use it annually. Red serviettes.
War songs in the background or pianist.
Afternoon tea or scones.
Home made Trench Cake for tasting and talking point. During the first world war people in Britain would bake and post a fruit cake to loved ones on the front line. Some traditional cake ingredients were hard to come by. There are no eggs in this recipe and vinegar was used to react with the baking soda to help it rise. The Telegraph released the recipe for the 100 year commemoration of the WW1 ending.
Circulate war memorabilia, for discussion. Guests can bring any objects or photographs they have. The library have books or some have reminiscence boxes, as do some local museums. Others can be purchased like:
https://www.winslowresources.com/world-war-reminiscence-pack.html https://www.mempackcompany.com/
Show a YouTube clip:
https://www.youtube.com/watch?v=K6BlOkpdkg8
Give away appropriate literature Life words produce a replica St John's Gospel given to each Soldier in WW1:
https://www.lifewords.global/shop/product/wwi-active-service-saint-johns-gospel/ 
Books available from:
https://hopepublishing.org.uk/products/silence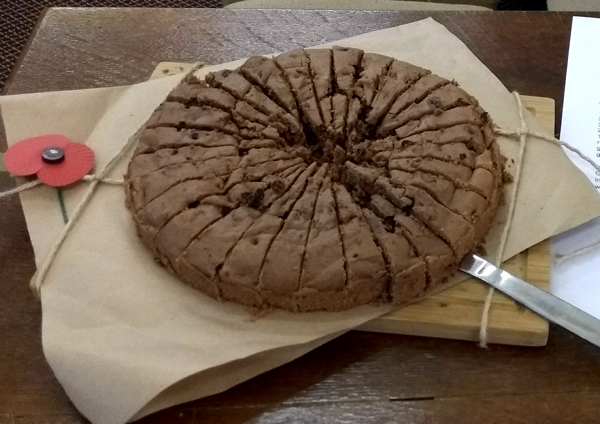 All Things English Programme
(Can be used for St George's Day)
Decorations
Red and white bunting, English flag, serviettes with English theme.
Dress in red and white,
Background music such as Elgar, last night of the proms
Refreshments
Scones, Victoria sandwich
Programme
Mainly taken from "England our England" by Alan Titchmarsh – Page number references.
Reading: Home Thoughts from Abroad, Robert Browning, p99.
List: Food and Drink No English Home Should Be Without, p278. Discuss.
Shakespeare Quotes: Print, cut out the words and place in an envelope, one for each team. First team to sort the quotes correctly are the winners. Shakespeare Quotes
Reading: Cricket Explained, p332.
Quiz: Famous Englishmen from History. Print one for each team. Stop when first team finished. Team gets an extra point if no other team has the name. If you take this seriously, you will need to the internet to check the nationality of each man. Also make it clear at the beginning if it is men's names only. Famous Englishmen From History
Reading: A Song for the Weather, p165. Exchange the last line for the first line.
Nursery Rhyme Challenge: Give the teams a few minutes to start to think of nursery rhymes, they can jot some down if they choose. No rhyme can be repeated. Each team sings a rhyme in turn (depending on time choose how long they should sing for, first couple of lines may be enough) use a timer between each rhyme if the next time has not started by the end of the timer they are out. If they repeat a rhyme they are out. The last team in are the winners.