I have run Senior Moments for over 15 years and love it. It is a church based group for those young at heart but not so young in body!
In that time I discovered that there are lots of resources for running church groups for toddlers, children and young adults, but little for the elderly. This has spurred me on to create this website in order to share ideas and resources that we use. I hope these resources will help with ideas and guidance on running a group and an opportunity to share the good news of the Bible.
Some of the resources could be used in other settings, such as a care home, where you could offer to run a regular activity with a pause for thought.
Name
We called our group "Senior Moments" because it indicates the age group and that it is run for a short time in the week. At the same time the play on words hopefully indicates that the group is fun.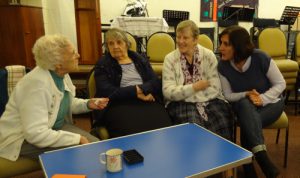 Day and time
We meet weekly during term time on a day that doesn't clash with other things our seniors might want to go to, such as the town market. Regular weekly meetings build a good rapport and help their loneliness. We don't meet in school holidays as it gives our helpers a break, although our seniors do complain when the holidays come.
Our normal meeting time is early afternoon from 1.30 to 2.45. This allows folk to get home before the school rush and before dark in the winter. Special activities may have different times but these are published in advance in the programme.
Publicity Ideas
The best publicity is always "word of mouth" and so we encourage our seniors to invite their friends and people they chat with on the bus! We have also tried, to varying degrees of success:
We occasionally do leaflet drops of the locality of the termly programme.
Publicity posters on community noticeboards, such as libraries.
Details given to local health providers, GP surgeries and pharmacies.
Posting club details on local age related web sites.
Add to resource directory:https://faithinlaterlife.org/.
Transport
We do not advertise that we will be able to provide lifts as we do not have unlimited capacity. However, helpers will give lifts if mobility difficulties are made known.
Everyone is special
We try to ensure that everyone is spoken to each week. We also keep a birthday book and send birthday cards. Cards will also be sent on other significant occasions such as anniversaries, illness and bereavement.
General Tips

Set up early so that you can concentrate on greeting everyone as they arrive, especially newcomers.
It is useful to have a fall back programme, just in case the planned one has to be cancelled, such as when the speaker fails to turn up!
If possible, have some chairs that are suitable for people with mobility problems. Chairs with arms and some that are higher than normal.
It is useful to have a transit wheelchair. This is useful to take on outings in case the distance is further than anticipated or someone's knee gives way and they need to get home!
Frequent charity shops. You can pick up lots of resources, board games, quizzes, decorations, reminiscence objects. I get ideas from there too.
The January sales are also a good time to get resources cheaply. Games, after dinner quizzes, photo quizzes, music quizzes and Christmas crackers! Marks and Spencer do a good range at that time of year.
Get to know your local councillor and invite him/her to your meeting. There are grants for clubs and activities for the elderly. Our local councillor provided funds for our wheelchair and subsidised an outing.
Keep a record of all your activities even down to the quantities you use for crafts.  This will save time and money the next time you do it.
Photos and videos
We take lots as our seniors love to see themselves! They are displayed on our "Senior Moments" noticeboard, on the church's social media page and for publicity. For the latter two uses it's best to obtain permission and to be sensitive about using photos of those who have passed away since taken. We have kept albums over the years and bring them out from time to time to look at.
One of our members is also good at turning them into Christmas gifts such as calendars, placemats, fridge magnets, framed photos and key rings. Always gratefully received!