Sweet Making
Use no cook recipes, 3-4 people per table per recipe. Provide ingredients with the recipe and equipment per table. At the end they can taste each other's. If they are taking them home suitable containers are needed such as take away foil trays or boxes could be made the week before as an extra craft session. Facilities for washing hands required or provide wipes. Aprons optional.
Suggestions:
Plant Patio Pots
Everyone brings a pot about 10-12" diameter. It is useful to have extra in case someone is unable to bring one or has forgotten. Provide compost, broken up polystyrene for lightweight drainage, and bedding plants. Supermarkets sell plants at competitive prices. Some like to wear disposable gloves when planting. We usually plant ours at the end of May. If doing this inside we use a tarpaulin under the compost bag. The folk like to take photos of the pots later in the summer and show them with pride.
Pamper
This is always popular with the women, but you will need to have an alternative for the men! We have games available. A good title for the session could be 'Beauty and the Beast'! The volunteers have a pillow with a towel on and offer to give hand massages with hand cream/oil or a manicure (i.e. a little nail filing and application of nail polish – either the guest's own or from our small supply). If you have anyone that can do shoulder massages, this is popular too. Play relaxing music in the background. It is a good way of having conversations with guests.
Colouring Therapy
This is a good programme to do if you know some of the usual volunteers are away. There are endless adult colouring materials in the shops at the moment. Make sure it is smaller size and not too intricate, to be able to finish it in one session, or save incomplete ones for another session. Also if some have eye sight difficulties bold outlines are useful. Our men enjoy this activity too, but tend to choose landscapes or animals to colour. Have a pack of crayons per table of 3-5 and remember to have a good sharpener available.
Bird Feeders
A good idea for January. We use cheap plastic bowls and wooden spoons, saved just for this. Soften lard and mix in bird seed. Fill plastic/paper cups with a hole in the bottom with string threaded through then knotted to form a loop. It is important when filling to keep the string in the centre of the mixture. At home, set in the fridge then cut off the cup before hanging for the birds. I haven't got a volunteer to make nesting boxes with our group yet, but it would be an alternative if you have someone.
Love in a Box
This is an annual event. We prepare Christmas gifts in shoe boxes for https://www.blythswood.org/. We chose this charity because they send to widows and older men as well as children. For some it is a lot to buy all the items for one box so everyone brings one or two items, some bring one or two carrier bags full! During the session watch the DVD supplied by Blythswood for the current appeal, then to work. One team covers the boxes, individuals collect from all the items spread along the tables and one team checks the boxes. Quite an industrial rewarding session!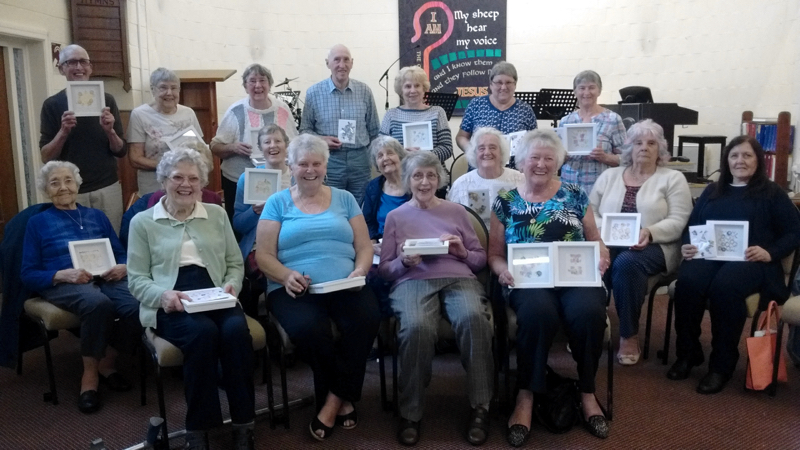 Art
We had a community artist come for 2 weeks to work with the group provided by the council. She did ink prints and framed them for taking home.
Christmas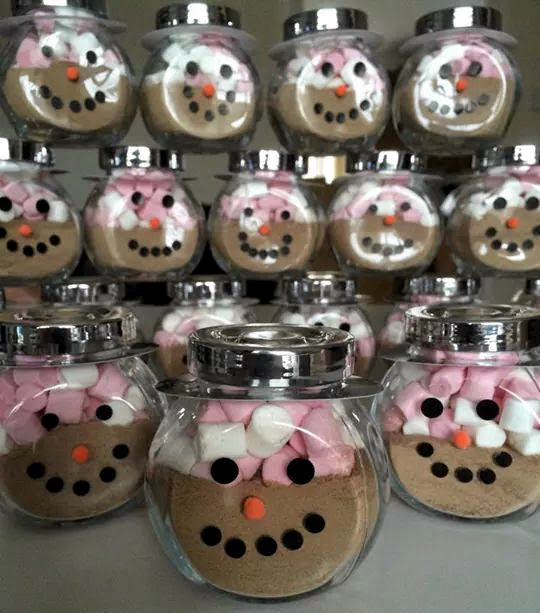 Hot Chocolate Snowman Jars. Use Ikea Rajtan spice jars. Half fill with drinking chocolate, complete the fill with mini marshmallows. Cut a circle of silver card to go over the lid as a hat brim decorate the jar as a snowman's face with 1cm black sticky dots and 1cm orange pompoms for a nose. It is easier if you glue the pompoms on to orange sticky labels in advance, they can just be peeled off and stuck on the jar. An alternate hot chocolate jar, I have not tried but looks simple https://www.pinterest.co.uk/pin/480970435196888798/.